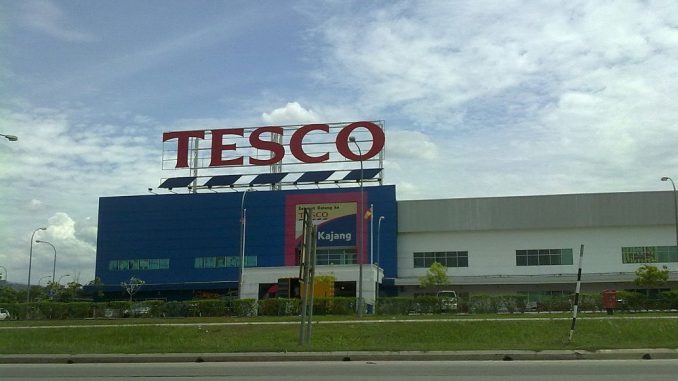 Tesco was founded by Jack Cohen in 1919 from a market stall in Londons East End. Over the years, as the retailing market has changed, their business has grown and developed, responding to new opportunities and initiating many innovations. Now they are operating in 14 countries around the world with employing more than 500,000 employees. (TESCO PLC)
In May 2002, Tesco opened its first store in Puchong, Malaysia. The opening of Tesco changed the consumer demand, also brought new standards in the retail trade. To be efficient and competitive with the end result of benefiting Malaysian consumers, this has encouraged both large and small retailers to be more efficient and competitive. (Basic Info About Tesco Malaysia)
In order to facilitate Malaysian, Tesco provides a complete one-stop shopping for their needs, including fresh food to groceries, from household needs to apparel. Tesco carriers a total of 86,000 lines of products including more than 1,300 Tesco branded items. (Basic Info About Tesco Malaysia)
The Situation Analysis of Tesco
To formulate a CRM strategy, we will use SWOT analysis to analyze the situation analysis of Tesco. SWOT stands for Strengths, Weaknesses, Opportunities, and Threats.
The strengths of Tesco are it has a powerful retail brand which it has awarded as the winner at the Year 2008 by World Retail Awards. The World Retail Awards recognize some truly talented and highly innovative retailers, it makes the brand of Tesco more value and attractive. (Worldretailawards) Besides that, Tesco have wide range of products and makes all products in each of Tesco branches. Tesco takes advantage of the economies of scale which buy the goods in bulk from suppliers. Therefore, it also means that Tesco has provided the cheapest prices to consumer and gain competitive advantage with others retailer in same industry such as Giant, Jusco, etc. Tesco also creating loyalty packages such as Club card and in the other hand also created their loyal customers to their brand. (Tesco SWOT analysis)
Tesco is big company with wide range of products. However, Tesco has its weaknesses. Tesco's finance profit was impacted by bad debt form credit cards and too many households' insurance claims because the products not in good condition and management difficult to manage so many products. (tesco Swot analysis) Besides, barriers to entry new market other than food sector such as books. In books industry Tesco are facing obstacles because there is companies that specializing in books industry that provide better service and have more loyalty customers such as MPH. Other than that, Tesco shortage of expertise and experience to offer phone services to customers and it may leads to debts. (Tesco SWOT analysis)
There are many opportunities for Tesco. The grow of Tesco in the online market and catalogue shopping will grow the use of technology; which might satisfy the customers' demanded to know the products details in Tesco even the promotions. It can also be develop additional services to understands and satisfy the consumers needs and wants such as market research, staff attitude assessment. Other than that, Tesco also can improve the queuing system that reduces the customer waiting time to pay. Effectively use of Clubcard database to targeted desired group of customer.
Tesco also faces many threats. Tesco try to be the number one leader in low cost market, it means that it will becomes the target of competition. Tesco has strong competitive market with others hypermarket such as Giant. Nowadays Giant can even beat down Tesco with provided the cheapest price to customers. Also there is a growing public concern about the smaller shops or smaller retailer are disappearing due to the growth of hypermarkets makes the small retailers cannot survive in the market. (CRM and ebusiness strategies of Tesco)
Based on the SWOT analysis, there are some improvements in order to understand the consumers' needs and wants. The main problems consist of the customer service, and customer takes too long time to queue for payment.
Besides, the opportunity of Tesco which are effectively use of Clubcard database to target desired group of customer to let them enjoy more benefits of being a member than an ordinary customer.
The Segmentation and Customer Profile
Tesco currently operates 43 Tesco and Tesco Extra store. Tesco carriers total of 86,000 lines of products. Therefore, Tesco has different target segment with the different products. The following data are showing the target segment and the sale size of Target Segment of Tesco.
The Target Segment of Tesco
| | |
| --- | --- |
| Segment | Attribute |
| Housewife | They go to Tesco during the promotion season. |
| White Collar | Like to shopping at a clean, comfortable, and manageable environment. |
| Family | They go Tesco together with their whole family members. |
| Retailer | They make their business supplement product from Tesco. |
In this target segment, housewife is occupying 25% of sales. Housewife is the person who already married with the age between 27 and 50. They do not work after get married, and they do not waste money. Therefore, this group of segment will only go Tesco during the promotion season. They go to Tesco is usually buy groceries.
Another target segment is white collar who are occupying 13% of sales. White collar's age is between 21 and 35. They are officer, and their working hour is from 8am until 6pm. It is too late for them to go wet market after work. Therefore, they choose to go Tesco, also because of they like to shopping at a clean, comfortable, and manageable environment. This make them to feel relax after work. They go to Tesco is usually buy groceries, stationary, and electronic products.
The next target segment is family who are occupying 37% of sales. This group of segment is a small family member with the members of spouses and children. They like to go Tesco together because this can help them to improve their relationships with each other. They go to Tesco is usually buy groceries, toys, furniture, and electronic products.
The last target segment is retailers who are occupying 25% of sales. They have their own business, and have strong economic capacity. The retailer normally will make their business supplement product from Tesco, because Tesco have wholesales with lower price. This will make them more convenient and reduce the expenditure on business.
The CRM Objective
The first CRM objective is to increase customer's satisfaction by providing better customer service. Tesco has received many negative feedbacks from the customers due to the bad attitude and lack of knowledge of the Tesco's staff. Therefore, Tesco will provide training to their staffs, make sure that the staffs can help customers when they needed. Also, Tesco will have a customer service counter to serve those customers who need help.
Another CRM objective is to maintain long-term relationship with customer and enhance customer loyalty. Customer can become a membership by applying Clubcard. The purpose of Clubcard is to let customer to accumulate points when consumer at Tesco, and redeem some particular products or voucher by using the points. However, if compare with Tesco's competitor, Clubcard member unable to get some benefits, for example, cash voucher, when their birthday. In addition, Tesco's competitor will conduct a membership day occasionally, so the customer can enjoy the lowest price for all the items in this day. All of these membership benefits are what Clubcard member unable to enjoy.
The last objective is to increase efficiency, speed up the queuing process and enhance the customer journey. Tesco always received complaints that the check-out counters waiting time is too long. Therefore, Tesco will build in multiple check-out counters. When there are not much of customers, some of the check-out counters will close, and two cashiers will work in the same counter to serve customers. When a queue is more than three customers, then the other check-out counters will open for the customers, so that the customer no need to queue so long.
The CRM Plan to Achieve Objective
To increase customer's satisfaction, communication is very important. Tesco can provide training to their staff to learn all the product knowledge and the communication skill when communicate with their customer. Tesco can develop new CRM software to improve their customer handling in call centre. This system allows customer services staff to manage and helps customers with any question they face when buying any technology product online or from Tesco store. Besides that, this system allows the retailer to give responses to customers and log customer's interactions through the phone or email.
Individual customer information must be used to develop a long-term relationship. Understanding their customers was the key to customer relationship and loyalty. Tesco can introduce their Tesco Clubcard to their customers, become Tesco Clubcard members can get many offer and benefits such as, accumulate points when they purchase in Tesco, while get enough points can use the points to redeem any product they want. Besides that, become Tesco Clubcard member can get voucher at some period time or get discounted on certain item. Other than that, when Tesco held out any events, Clubcard members have the priority to know what the event and any promotion. All this can help Tesco to increase their customer's loyalty.
What customers want is efficiency to help them save a lot of time. Customers dislike to wait, Tesco always having the problem of check-out counters waiting time too long. To solve this problem, Tesco can open more check-out counters when the customers is getting more and it make the queue time will not be so long. Besides that, Tesco can develop new software for their customers to use their phone to pay what they want to buy which customers can download the Tesco apps from internet through phone, when there is too much customer to queue for pay, they can open the apps and while shopping while scan the product bar code they choose and then use credit card to pay online. Online paying is much easier and efficiency nowadays. Tesco will open extra check-out counters just for the customers who are paying online, so the customers who use online paying just need to go the counter and show them the online receipt and the cashier will help them to pack all the products.
The Evaluation Methods to Evaluate the Effectiveness of the Strategies
First, Tesco can collect customer's feedback through giving out comment cards. The purpose of giving out comment cards to customers is to let Tesco's management knows what the customer dissatisfied, what they complaint about, and what basically customers needs and wants in order to make improvement to sustain the long term relationships with customers.
Another evaluation method which is time management system, using by Tesco that purpose is to evaluate the waiting time of customer until they make the payment. For example, the receipt given to each customer possessed the function of record down the time in order to let the customer know how long they have been waited and at the same time Tesco can evaluate the customer waiting time whether shorten or need to be improving.