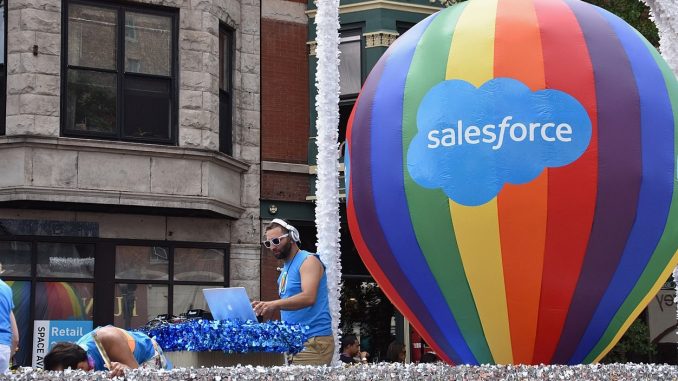 Salesforce has announced the launch of Salesforce Blockchain, a CRM product which aims to let users share verified, distributed data sets across a network of partners and third parties.
The low-code offering, aimed at developers working on the Lightning platform, has its theory in exploring how CRM can extend beyond direct customer relationships to creating business models around ecosystems. The blockchain technology is used to provide a secure distributed ledger to independently verify records and establish proper authentication channels.
The company argues that 'by combining CRM workflows with blockchain data, companies can create new business processes and models that span sales, service, marketing and beyond to accelerate the speed of business.'
"We help companies build for the future by making breakthrough technology accessible and easy to use – today we are doing just that with Salesforce Blockchain," said Bret Taylor, Salesforce president, and chief product officer in a statement. "Now, companies will be able to create new ecosystems and achieve new levels of interconnectivity through trusted partner networks."
Salesforce's interest in technology has been previously noted. In March last year, co-founders Marc Benioff and Parker Harris told Business Insider about how the company was exploring blockchain technologies. At the end of April, the company put together a guide to 'decoding' blockchain and its use cases. This time last week, another blog post appeared outlining similar theories, albeit more optimistically.
Marketing professionals continue to assess blockchain as part of their potential strategy. The vast majority of use cases, as this publication has previously explored, have been around advertising. A report from GroupM in March argued that the possibilities of distributed ledger technologies managing digital identity and adding transparency to the supply chain were 'promising.'
Salesforce is ultimately looking to do similar in its utilization. Current customers of the company's blockchain offering include analytics and technology providers IQVIA and S&P Global Ratings, as well as Arizona State University. The latter is looking to build an educational network which enables universities to verify and securely share information. "This network has the potential to be a game-changer for integrated, seamless learning – increasing transparency of student achievements and ultimately making the exchange process of academic records easier for both learners and institutions," said Kent Hopkins, vice president of enrolment services.
The product is available to select design partners today, with general availability pegged in for next year.