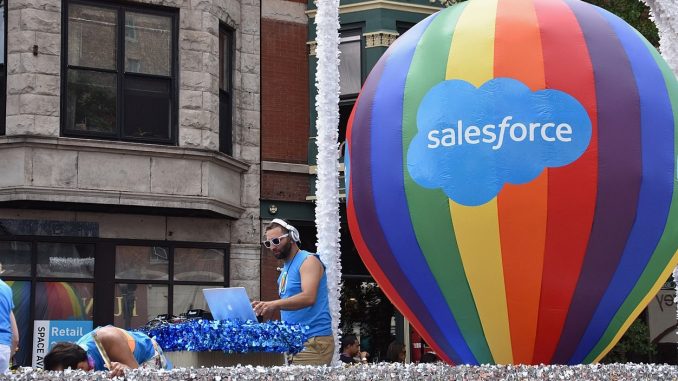 Now that the Salesforce acquisition of Tableau is complete, curiosity turns not only toward how the companies themselves will blend together, but also what will become of Einstein Analytics, the CRM giant's existing business intelligence platform.
Instead of eliminating one analytics suite and focusing on development of the other, with the closing of the Salesforce acquisition of Tableau on Aug. 1 — less than two months after the $15.7 billion deal was first announced on June 10 — the sense is that Salesforce might make the two analytics systems work quite well together.
That is, while potentially remaining separate.
Salesforce declined to comment on its plans for Einstein Analytics and Tableau, referring an inquiry to previously released materials.
"We will be working over the next few months to jointly build a product roadmap that takes advantage of all the unique capabilities of each technology and brings to market a solution or set of solutions that enhances all three products," the company said in a list of frequently asked questions.
Tableau similarly declined to comment.
Tableau's chief strength is its data visualization capabilities, and up to now it has most often deployed on premises. It lacks the intuitiveness of some other analytics and visualization platforms, however, often requiring IT professionals to manage the data in order to create meaningful reports.
Einstein Analytics, meanwhile, is generally cloud-based and is known for its natural language processing and use of artificial intelligence. In addition, it's often embedded within other Salesforce applications and therefore used in conjunction with other Salesforce products rather than those from other vendors.
"Salesforce has done a good job with NLP and AI, whereas Tableau hasn't done as much with voice and AI, so it's an intriguing opportunity for the two to be complementary — Einstein's voice and AI capabilities can be combined with Tableau's self-service capabilities," said David Menninger, senior vice president and director of data and analytics research at Ventana Research. "It's a natural fit. It will be interesting to see if they can take advantage of that natural synergy."
Likewise, Donald Farmer, principal at TreeHive Strategy, pointed to the technological fit between Einstein Analytics and Tableau as a reason he foresees both surviving the acquisition.
"Tableau provides the basics — data handling, data visualization — but they haven't developed their NLI and AI capabilities," he said. "They have started on that journey but haven't gotten very far. [Einstein] will provide an extra layer of intelligence."
Another reason the platforms can potentially complement one another now that the Salesforce acquisition of Tableau is complete is that they address different customer needs.
They solve different sets of problems, noted Nicole France, an analyst at Constellation Research.
"AI is most effective when applied to specific problems — it requires the knowledge of what to solve for and why, a depth of knowledge and expertise," she said. "Einstein solves operational and performance tracking challenges to try to understand marketing and customer service. Tableau focuses on the challenge of how to use AI to do statistical analysis. They take on different problem sets from different perspectives."
Given the complementary qualities of Einstein Analytics and Tableau, how Salesforce ultimately positions them to take advantage of each other's strengths is another question.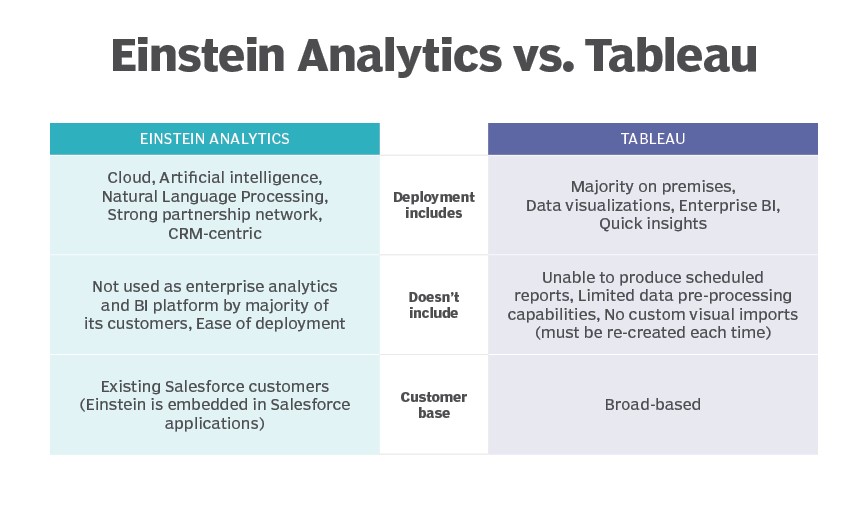 It's possible the products will be combined into one entity that takes the best features from each, but key observers said their sense is Salesforce will keep its Einstein suite and Tableau's product separate in the near term and proceed with caution as it tries to figure out how to take advantage of the powers of the two systems.
"I expect them to stay intact for some time to come, and they'll be deliberate on how to merge them down the road," France said. "I don't think there will be a massive effort to build them into one AI capability."
Meanwhile, some historical perspective provides hints about how the Tableau-Einstein Analytics combo also might not end up as harmoniously as it appears now.
A bit over a decade ago, a trio of acquisitions reordered the BI industry with IBM buying Cognos, SAP purchasing Business Objects and Oracle acquiring Hyperion.
But those acquisitions serve as more of a cautionary tale than one of success. Ten years ago, all three were at the top of analytics market. All have fallen since, with IBM and Oracle now viewed as merely niche players by Gartner, for example.
"The challenge will be the history of previous multi-billion-dollar analytics acquisitions," Menninger said. "If you look back, they haven't flourished — no one has really knocked it out of the park. That's the backdrop against which this will be evaluated."
Because of the synergies, the Salesforce acquisition of Tableau has potential. Something else working in favor of the merger is Salesforce's 2018 purchase of MuleSoft, a leading software integration vendor with the talent to stitch together disparate systems.
But with so many of Tableau's customers still on premises, while Einstein users are in the cloud, Salesforce faces a distinct problem if it is eventually to roll Tableau and Einstein Analytics into one, according to Menninger.
"The biggest challenge is the burden of integrating," he said. "No one has done it really well in the past. The question isn't whether 1 plus 1 will make 1.5, but can 1 plus 1 equal 3?"